Are you ready for a fun trip???
We're about to embark on a cosmic journey that even the Starship Enterprise would envy. Our destination?
Not just any old spot in the universe, but the heart of a black hole.
Intrigued? Of course, you are!
So, let's punch it into hyperdrive Chewie!
In 2019, a super smart gang of scientists, known as the Event Horizon Telescope collaboration, did something absolutely bonkers.
They captured the first-ever image of a black hole.
That's right, a BLACK HOLE! Can you believe it? It's like snapping a selfie with Bigfoot or the Loch Ness Monster.
This beast, chilling out in the galaxy M87, had been playing hard-to-get with our Earthling telescopes for eons. But like a well-crafted sales page, it could only resist our charm for so long!
"Wait, what?" I hear you say. "Black holes and sales pages? You've lost it, Rob!" But hear me out, because this wild ride has just begun!
Think about it. What is a black hole?
It's a place where curiosity rockets off the charts!
It's mysterious, alluring, and once you're in its grip, there's no turning back. Sounds like a top-notch sales page, right?
Just like the irresistible pull of a black hole, your sales page needs to draw people in.
But not by using dark matter or bending space-time (though that would be pretty rad).
No, it does this with words. Your words.
The gravitational pull of a black hole is so strong, even light can't escape.
Now, I'm not saying your sales copy should trap people (we're not supervillains, after all). But it should be so gripping your readers can't pull themselves away.
First, you need a headline as captivating as that first black hole image.
Something that grabs them by the eyeballs and says, "Hey, you! Yes, you! You're going to love what's coming up next!"
Remember, like the mystery of a black hole, curiosity is your friend. Pique your reader's interest, tickle their curiosity, and tease their brains.
Next, your sales page needs substance.
A black hole isn't just a space-time vacuum cleaner.
It's a churning cauldron of energy that lights up the galaxy around it.
Your sales page should do the same. It should light up your reader's world with possibilities, solutions, and benefits.
Last but not least, your sales copy should be a journey. A ride that propels your reader into the unknown, only to safely deliver them to the "Buy Now" button, just like a spacecraft escaping the event horizon.
If this all sounds like a galactic challenge, fear not! Why? Because I've got a special treat that's hotter than a supernova.
When you join my VIP Email List, you'll score my Ebook – "Seven Figure Headline Writing Secrets Revealed"!
This gem will show you my step-by-step system for writing killer headlines.
Headlines that FORCE your audience to stop scrolling, sit up, and take notice!
Plus, you'll get access to my best copywriting tips, tricks, special offers, and some seriously entertaining stories from my (admittedly) unusual life sent to you EVERY day.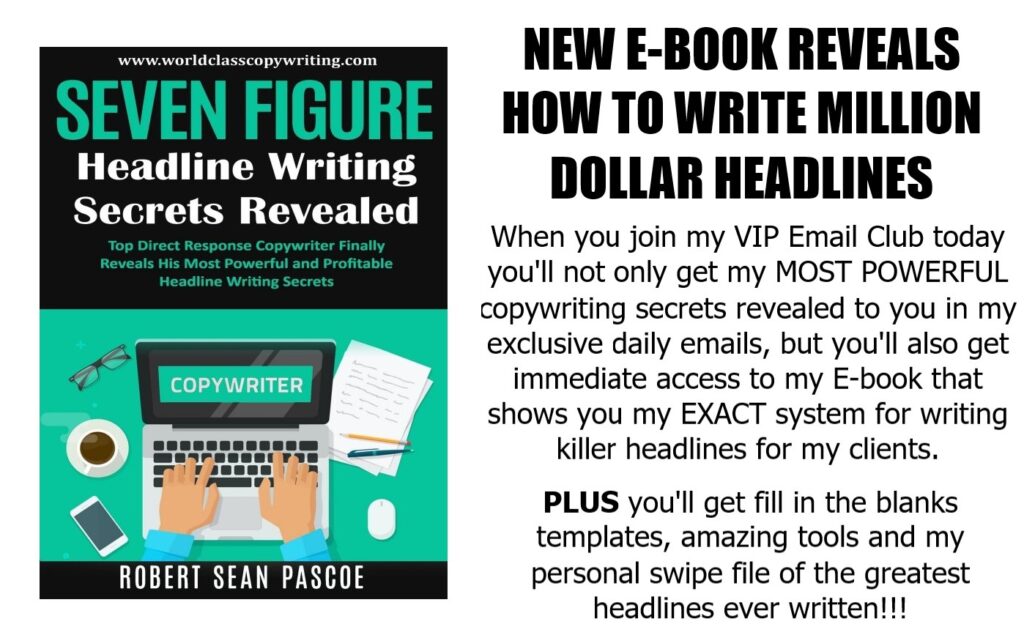 About Robert Sean Pascoe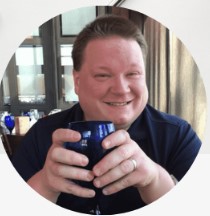 Robert has been a freelance copywriter for over seven years. Now, also as a Copywriting Coach and Strategist, he helps small business owners, aspiring freelance copywriters, and entrepreneurs craft compelling sales messages to build their businesses and increase sales.
When not decoding the world of words, Robert is delving into AI for copywriting and marketing. He also indulges his passion for professional wrestling, writing, and producing a weekly program on YouTube with over 40,000 subscribers. This side gig is a natural extension of his 25 years in the professional wrestling industry as a wrestler, manager, coach, producer, and play-by-play announcer.
Whether you're wrestling with the nuances of writing persuasive emails or creating a buzz for your business, Robert is the coach and strategist you need in your corner.
Sign up for the VIP Email List to embark on a unique journey through the world of copywriting with Robert. Plus, get your free copy of the eBook, "Seven Figure Headline Writing Secrets Revealed", and learn how to craft irresistible headlines that demand attention.