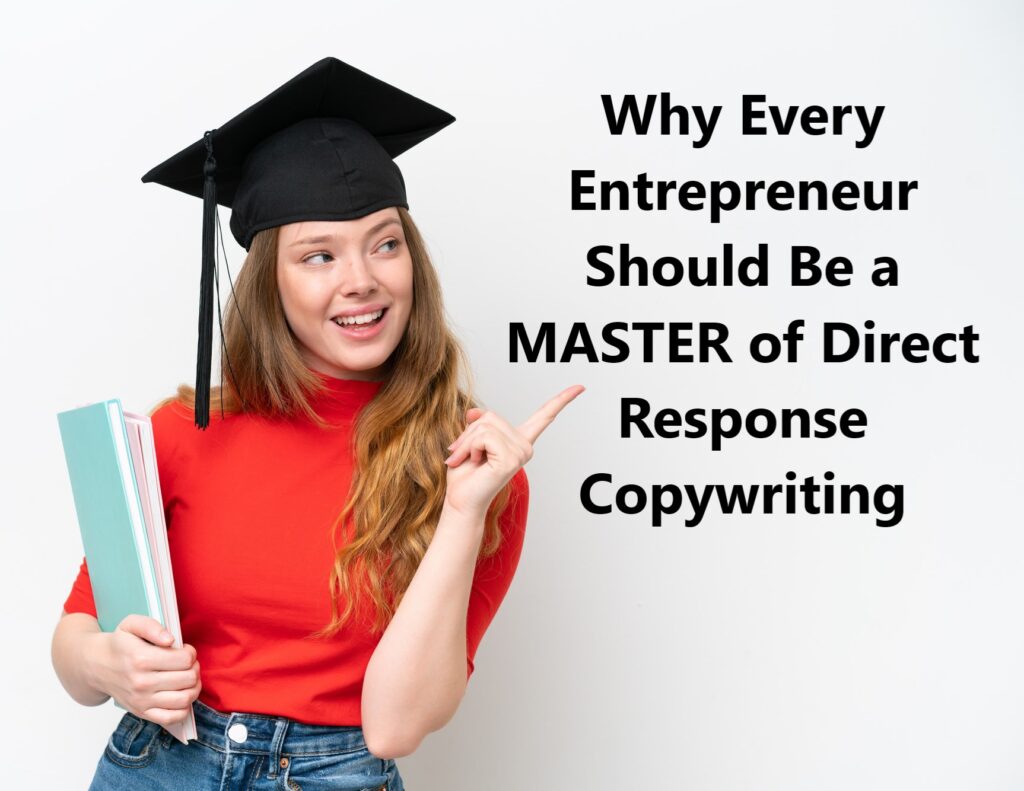 Hey there, fellow entrepreneur!
Wanna know the #1 skill to boost your biz?
I mean the REAL secret sauce. It's direct response copywriting.
No joke. It's not even a contest.
Why so sure, you ask? Well, falling headfirst into the copywriting world was the best "accident" that ever happened to me.
One minute I'm searching online for something, actually ANYTHING to help me increase my sales skills.
The next, I'm knee-deep in this crazy world of head-turning headlines, can't-say-no offers, and hard-hitting calls-to-action.
It truly felt like I had discovered a secret superpower. And honestly, a SUPER-POWER is what copywriting really is.
Now, let me give you the inside scoop into my past…
How I Went from Real Estate Failure to Real Estate Rock Star
Once upon a time, I was a real estate newbie. All green and eager, just trying to make it in an EXTREMELY cutthroat business.
How was it going?? Well, if it wasn't for the support of my AWESOME family I would have been living in the streets.
I was swimming in the deep end of some VERY shark-infested waters and barely catching my breath.
Then, boom! Everything changed when I stumbled upon an online chat about this thing called "copywriting" being led by John Carlton – who I found out was a legend of this profession.
Now that was a red pill moment.
So, I did the ULTIMATE deep dive. Books. Courses. You name it.
Before I knew it, I was living and breathing copywriting.
And boy, did it pay off. I suddenly went from a struggling newbie to a million-dollar producing agent.
Words became my secret weapon, carving a path through the real estate jungle.
Soon, the folks in my office start whispering.
They're seeing the change. Asking me for help with their sales letters, their web copy, and their emails.
I even got a WELL PAYING side gig writing scripts for the company's YouTube channel.
That was my lightbulb moment. I wasn't just playing the game anymore. I was winning it.
The truth was I quickly realized I was digging copywriting FAR MORE than selling houses.
I found my calling. I wasn't just some real estate agent with a knack for writing.  I was a copywriter. A wordsmith who'd used his skills to reinvent his career.
AND I LOVED IT!!! The thrill of spinning stories. The power of persuasion.
It wasn't just a part of the game. It was THE game.
The one I was born to play. And keep playing.
So, I went all in. Became a copywriting MASTER. Using words to weave narratives that moved people.
The Real Deal On Direct Response Copywriting
Direct response copywriting is all about action, action, action.
It's not about making you feel good or building a brand.
It's about getting your target audience to TAKE ACTION and take it RIGHT NOW.
Whether that's buying a product, subscribing to a newsletter, or downloading an eBook.
Direct response copywriting is your secret weapon.
It increases sales, costs less, builds customer engagement, and gives you measurable results.
Sure, you could hire a pro like me. But why not learn to fish instead?
Understanding direct response copywriting gives you customer insight, independence, better communication, and a sweet ROI.
Getting there takes practice, but it's worth it and there are tons of resources out there –  including the ones you'll find RIGHT HERE and especially when you join my VIP Email List.
When running a business you need every edge you can get.
Direct response copywriting? That's your edge, folks – a turbo-charged, budget-friendly tool that can transform your biz from a tricycle into a Tesla.
So, here's your mission, if you choose to accept it…
Take a deep dive into direct response copywriting. Learn it. Use it.
Watch how it flips the script on your biz, and how you communicate.
It's a wild ride that could land you right in the middle of a gold mine.
Remember, words are POWERFUL, and the RIGHT words?
Well, they can be the difference between a fizzle and a fireworks show.
So, are you ready to step up and seize that power?
If the answer's a big fat YES, then the world of direct response copywriting is your oyster.
One More BIG Thing…
Hey, before I wrap this up, I've got one more tantalizing tidbit for you.
We've just scratched the surface of the awesomeness that is direct response copywriting. And I've got a heap more valuable nuggets to share with you.
Fancy learning how to craft headlines that are so compelling, they've got the power to potentially rake in seven figures? Want insider secrets that'll transform your business?
If that's a 'heck yes!', then you're gonna love what I've got for you.
Join my VIP Email List. It's the gateway to a whole world of copywriting magic.
By hopping on the list, you're not just joining an email community – you're tapping into a powerhouse of direct response copywriting gold.
But wait – there's more!
As a little thank you for signing up, you'll also receive my FREE eBook: "Seven Figure Headline Writing Secrets Revealed".
This isn't just an eBook – it's a treasure trove of insider secrets that have taken me from a struggling real estate agent to a copywriting maestro.
It's time for you to wield the power of words and potentially transform your biz.
So click that link below and let's get this party started! You've got nothing to lose, and a whole world of copywriting awesomeness to gain.
What are you waiting for? Your potential seven figure headline-writing journey starts here. Let's roll!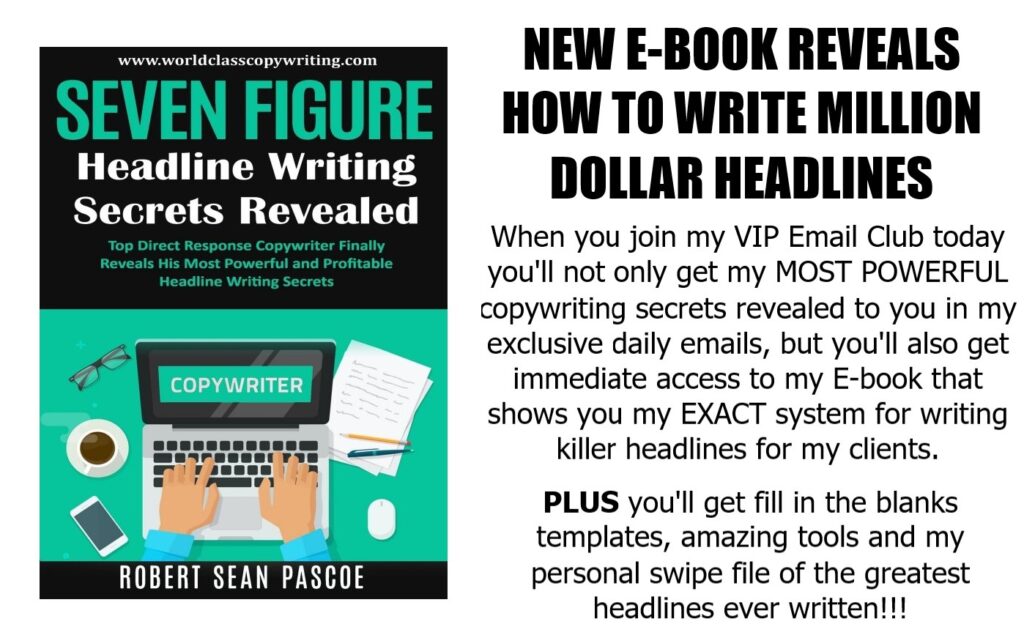 About Robert Sean Pascoe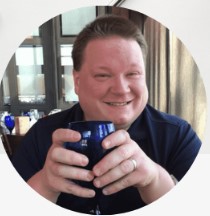 Robert has been a freelance copywriter for over seven years. Now, also as a Copywriting Coach and Strategist, he helps small business owners, aspiring freelance copywriters, and entrepreneurs craft compelling sales messages to build their businesses and increase sales.
When not decoding the world of words, Robert is delving into AI for copywriting and marketing. He also indulges his passion for professional wrestling, writing, and producing a weekly program on YouTube with over 40,000 subscribers. This side gig is a natural extension of his 25 years in the professional wrestling industry as a wrestler, manager, coach, producer, and play-by-play announcer.
Whether you're wrestling with the nuances of writing persuasive emails or creating a buzz for your business, Robert is the coach and strategist you need in your corner.
Sign up for the VIP Email List to embark on a unique journey through the world of copywriting with Robert. Plus, get your free copy of the eBook, "Seven Figure Headline Writing Secrets Revealed", and learn how to craft irresistible headlines that demand attention.