If you are interested in adding a potentially HUGE income stream to your business, then this article will hopefully FLOOD your mind with lots of ideas.
Here's the story…
Recently I had a new potential client come to me who wanted to hire me to write sales copy for him.  Unfortunately, like far too many entrepreneurs he didn't really know what he needed. 
You see, hiring a freelance copywriter like myself is not a magic bullet to success (even though I'd love to be able to say it is). 
Of course, IF you have critical steps in place – like knowing who your target audience is and having a good offer – then having powerful sales copy written to do the selling will certainly skyrocket your profits.
But here's the thing – a shocking number of entrepreneurs don't even know what business they are really in. Or should be in.
Going back to this gentleman who contacted me.  As I normally do with new clients, we started with a brief phone conversation so I could fully understand how I could best help him.
Well, it was pretty clear right away that he wasn't at the stage of his business to hire me.  He didn't even have a clear business plan in place.  
Maybe The Best Free Advice I've Ever Given
Now, everyone's situation is unique of course. For this man, he had owned a service business for over a decade that was quite successful.
For reasons I'm not quite sure of he had closed down his business for a few years. When he decided to start up again he found that competitors had moved into his area and it was going to be much tougher now to get back to work.
He was hoping I could create copy powerful enough to overcome competitor pricing he just couldn't match for the same service. 
Now, I could have taken his money and promised to write a direct mail or local print ad campaign that would have everyone in his neighborhood automatically switch over to working with him again.
The fact he admitted he not only couldn't compete on price but also couldn't give the same level of service as the new kings of the neighborhood I had to be honest and tell him that he needed to come up with a real business plan before moving forward with hiring me.
So, we had a couple more calls and I tried to help him come up with ideas to compete and ultimately I gave him the only two options that would have a chance of working for him.
#1. Move his business to a new town where there wasn't such fierce competition and he could legitimately fill a need that existed.  Well, this wasn't an option he said as he just bought a new house and didn't want to commute out of his town. 
#2. Take his knowledge of his industry and use it to create an entirely new business he could run from anywhere. 
The One Business Almost Everyone Should Be In
Here's the exact advice I gave him and I sincerely hope he takes it and finds huge success.
Take your knowledge of your business and start an information/coaching business.  Having an information business or adding one to your existing business is in my opinion the single easiest way to increase your profits.
Why? It's because selling information with a coaching upsell is the easiest way to take what you already know and reach a whole new audience of target customers.
Plus, you can do it in a way that not only multiplies you but simultaneously gives you the FREEDOM to live life on your own terms without being stuck in a self-imposed 9 to 5 prison.
In this particular case, I advised creating a "business in a box" type kit and selling it as a business opportunity.  He could reproduce all of his documents, and marketing materials and record a step-by-step audio or video program describing how to start and run the business.  
Then I suggested he create an upsell of group coaching and possibly a premium tier of one-on-one coaching for his most motivated students.
Now, this might seem complicated but it really isn't.  There are resources you can find including several books on Amazon that will help you get started.
However you learn, I hope you'll take my free advice seriously.  Do what most people won't and allow your built-in computer to go to work for you.
Think about how you can take your knowledge and unique experiences and package them together in a way where you can help as many people as possible, as well create a new income stream that will be as rewarding as it is profitable.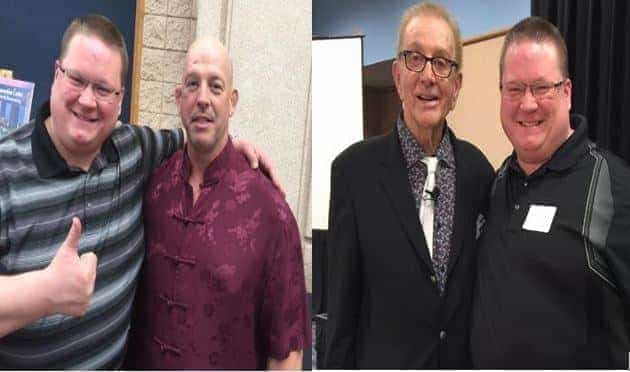 Robert with Direct Response Copywriting Legends Matt Furey and Ted Nicholas
Robert Sean Pascoe is a freelance direct response copywriter and marketing strategist who works with entrepreneurs worldwide to create advertising and marketing campaigns that maximize their profits.
With 16 years of copywriting experience and a lifetime in sales, Robert knows how to use the power of words to sell virtually anything to anyone, especially if the market has been properly defined.
Robert enjoys primarily working with small business owners to sell more of their products and services through the power of direct response advertising and marketing.
He has written sales copy for companies in such diverse niches as Weight Loss Supplements, Skin Care, Male Enhancement, Local Marketing Agencies, Live Event Seminars, Software Developers, Insurance Agencies, Real Estate Brokerages, Marketing Consultants and many, many more.
How Robert Can Help You Today
If you are looking for someone to help you achieve the SUCCESS and FREEDOM you desire in your business then please send a quick email to rsp@worldclasscopywriting.com today!
In conclusion, to learn more about what Robert can do for your business please visit the home page at https://worldclasscopywriting.com!
Finally, don't forget to sign up for my VIP EMAIL CLUB. You'll get a FREE Digital Copy of my new E-book "Seven Figure Headline Writing Secrets" at https://www.subscribepage.com/howtowriteheadlines