Are you struggling to figure out a lead generation system that REALLY works?
In this article I reveal the EXACT steps I'm currently using to put my the lead generation efforts on auto-pilot.
Now, first of all, this is a VERY newbie and non-complicated system.
Yeah, my family and friends might think of me as a "tech geek" because I'm a copywriter and blogger. But being someone who writes online, doesn't mean I am "technically proficient" in any way.
In fact, when it comes to doing things like building a lead generation system… well, I literally start to break out into a rash.
It can be pretty embarrassing.
So, why don't I pay someone to do all the "techy" stuff for me so I can just concentrate on doing what I love to do? Which is writing.
Well, ultimately, I know I SHOULD know how to do this stuff for myself. Even if I'm not exactly enjoying it.
Therefore, I've been studying all of the different books and courses I could find on creating a low-cost lead generation system.
And one that actually WORKS.
I personally found that most of these lead generation systems are just too dang complicated.  Or EXPENSIVE.
That is until I re-discovered some back issues of Ben Settle's Email Players Newsletter I had gotten as a bonus for buying one of his excellent products. (I'm NOT an affiliate but I highly recommend checking his stuff out as it is REALLY good!)
Anyways, I took what I learned from him and tweaked things a bit to create my own, very simple lead generation system. 
A lead generation system that so far is working REALLY well for my business.
And the best part is …
It Cost Almost NOTHING To Implement This Lead Generation System!
Now, that's not to say I won't scale up soon and add paid traffic to the mix.  But I wanted to test things out first.  And guess what? I'm getting AWESOME results so far!
On average I'm adding 20 to 30 new subscribers per day and getting almost NO opt-outs so far.
And the most incredible stat is that my squeeze page is so far getting a 100% positive result!  (A squeeze page is an online landing page which has ONE purpose and that's to "squeeze" the contact information out of your prospect.  It has NO OTHER navigation or distractions. The whole purpose is to entice the opt-in)
Yep, that means EVERYONE who has visited my squeeze page has opted in to receive the free digital copy of my new book.
Now, I now that is far from average. There's no way it will continue but at this point, it's a GREAT sign that I'm doing something right.
So, let me break it all down for you in …
A FREE Lead Generation System… That Actually Works!
Okay, let's look at each step of this system:
Step #1 – Develop a Valuable Lead Magnet to Give Away
If you want to attract high-quality leads for your business, you need to offer something of VALUE in exchange. 
For my business, I wrote a short book called "Seven Figure Headline Writing Secrets Revealed".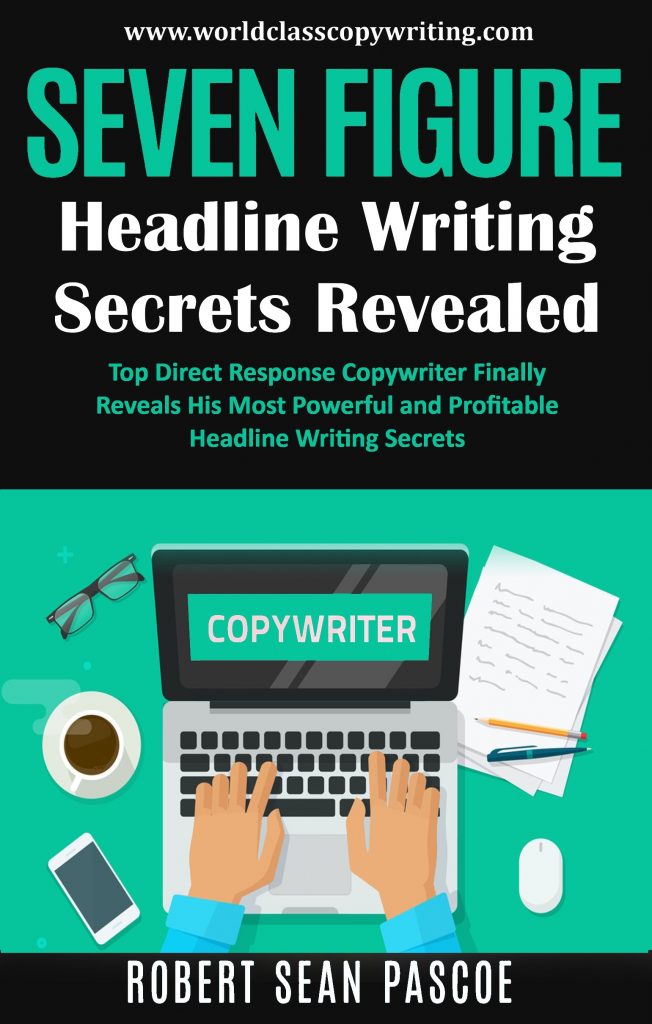 I wrote this book with one purpose and that was to give the digital version of it away as a free gift, or "ethical bribe" in exchange for joining my email list.
Now, I admit having struggled with this. 
When I was writing this book, where I revealed my exact process for writing profit pulling headlines, I kept wondering if I was giving too much away. 
I mean, this was VERY VALUABLE information.  And I could have EASILY turned it into a paid product to make some serious cash.
So, I wrestled with myself over whether I should just GIVE it away.
But then something hit me. I realized that I wasn't really giving it away for free.  
Actually, I was gaining something INCREDIBLY valuable in exchange for the value I was giving.  
In fact, I was getting more than just the contact information of a new potential customer.  Most importantly, I was gaining the chance to earn that person's future business.
A Customer Is THE Most Valuable Asset You Will EVER Have In Your Business
Far more than whatever profit I would have made from selling this E-book instead of offering it as the incentive for opting into my email list.
So, take your time and develop something you know your ideal customers will be interested in. 
For me, I am most interested in building a list of small business owners and aspiring entrepreneurs. Specifically, who may be a good fit for either my freelance copywriting services or marketing coaching sessions. 
Since I am an entrepreneur myself, I know that being able to write headlines that get attention and set up the sale is SUPER important.  Therefore, I knew that an in-depth book on the subject would be valuable enough to earn my prospect's contact information.
When you are trying to decide on a lead magnet, put yourself in your potential customer's shoes. 
Ask yourself, if you were them, what would you be willing to actually PAY for. Then with that in mind create your lead magnet.
Now, it doesn't always need to be an E-book.
It could be a Checklist, Cheatsheet, Workbook, Resource Guide, Template or even a Toolkit.
The only thing that REALLY matters is that your prospects will find it to be of VALUE.
Step #2 – Write Powerfully Persuasive Copy for Your Squeeze Page
Now that you have your lead magnet created, you need to write an irresistibly influential message to feature on your squeeze page.  Something POWERFUL which will convince your visitors to "pull the trigger" and opt into your email list.  
Just like you put yourself in the shoes of your prospect to decide on what they would be willing to pay for to create your lead magnet, go ahead and do this exercise again asking …
"If I was my perfect prospect, what would I have to hear to make an immediate decision to hand over my valuable contact information?"
To motivate someone to do something… ANYTHING… there has to be a big presumed benefit for them.  They have to be convinced that it is in their best interest to enter their name and email address in the opt-in box.
So, the message needs to PROMISE at least one big benefit that your prospect will experience for opting in.
For my lead magnet, here is the headline copy on the squeeze page:
New FREE Book Reveals My Most Valuable Secrets To Writing Breakthrough Headlines That Can DOUBLE, TRIPLE or Even QUADRUPLE Your Sales RIGHT NOW!!!
Then immediately above the opt-in box is a secondary headline which says:
Finally! My Step-By-Step System for Writing MILLION-DOLLAR Headlines Is Revealed!
It's pretty clear, just from reading the headlines that you are going to get some very valuable information by opting in and downloading this free e-book.
Then, if the reader still isn't convinced to opt-in, I hit them with a bunch of bullet points which go into more details about the benefits they'll receive. 
Here are the bullet points as seen on my squeeze page:
Here's just some of what you'll discover in…
Seven Figure Headline Writing Secrets Revealed:
How to Write Headlines That Speak Directly to the Emotional Wants, Needs, Desires and Problems of Your Prospects… (You'll Never Have to Worry Again About Whether You "Missed the Mark" With Your Target Audience!)
The Secret to Grabbing the Attention of ONLY Your Perfect Potential Customers… (While Deflecting Away Any Time Wasters Who Would NEVER Buy from You Anyways!)
A Can't-Miss Headline Writing Short-Cut That Perfectly Sets Up the Sale… EVEN If the Rest of Your Sales Message is Weak (This Will Get Your Prospect Worked Up into a Frenzy, Practically Begging You to Take Their Money!)
The Five Steps You Can Count On To GUARANTEE You're Creating the Most Powerful Headline Possible… (A Quick Look at These 5 Steps, located in your Convenient "Cheat Sheet" Will Supercharge Every Ad or Marketing Piece You Ever Have to Write Again!)
After reading both the headlines and the bullet points which hammer home the benefits of downloading this e-book, it shouldn't be too hard to "close the deal".
But, what if you've done everything right yet doubt creeps into your prospect's mind after entering their contact information.
They STILL might change their mind about opening your email which gives them the link to download your lead magnet.
This is why it is SO important to immediately follow the opt-in with a short but effectively persuasive "Success Page".
This brings us to Step #3.
Step #3 – Reinforce The Opt-In With A Very Specific Success Page
Okay, so you've accomplished a HUGE goal of gaining the trust of your prospect enough to get them to opt-in to your email list. 
Now, the second most important part of this entire lead generation system is making sure they actually OPEN your emails.
Here's why the "Success Page" is so darn important.
First of all, if you're wondering how to create a success page, this is something that is pretty standard with any email autoresponder service.
(I personally use Mailerlite. You can start with a free plan that has almost all the features of the paid plan. The only real difference is you can't have a custom domain for your squeeze page. But everything else is included for up to your first 1000 subscribers.) 
Basically, after you create your squeeze page, you'll be given the opportunity to customize the page your new subscribers are automatically taken to.
DO NOT LEAVE THE DEFAULT MESSAGE! Always customize the message on your success page.
It is CRUCIAL that you let your new email subscriber know to look for your welcome email which will include the link to your lead magnet. (By the way, if you're wondering where you "host" your lead magnet, I simply upload it as a PDF to the media files on my website and then copy the download link into my welcome email.)
Why is this SO important?  Because there is a good chance your first email will go straight to the SPAM folder. 
You want to make your new subscriber aware of this and specifically tell them to WHITELIST your email.
This will make sure all of your future emails won't be lost in an email black hole.  
Here is the exact message I have on my "Success Page" that new subscribers are taken to immediately after opting into my email list:
THANK YOU FOR JOINING MY VIP EMAIL CLUB!!!

  
 Please Check Your Email for My Welcome Message with a Link to Download Your FREE E-Book – Seven Figure Headline Writing Secrets Revealed"  
(Also, Please Check Your SPAM Folder if You Don't See The "Welcome" Message In Your Main E-Mail Box.  Sometimes It Gets Stuck There By Mistake.
Then Make Sure And Whitelist My Email "rsp@worldclasscopywriting.com" To Guarantee You Won't Miss Any Of My Copywriting, Marketing, and Business Building Tips.)
At this point, if you've done a good job of building excitement and anticipation for your lead magnet, your prospects should be heading to their email to find your welcome message with the download link.
Step #4 – Write An Engaging Welcome Email
Now, with the very first email, you want to start building a solid relationship with your new subscriber.
I think it's important to warmly welcome them. Tell them how much you appreciate them taking the time to sign up and for requesting your lead magnet. Be genuine as this is a real person who could ultimately become a paying customer and the lifeblood of your business.
Then. let them know what they can expect from your emails in the future.  Build some more anticipation so they don't just automatically opt out after downloading the freebie you first interested them with.
Here is the "Welcome Email" I send out when someone signs up for my email list – minus the download link as you'll have to opt in yourself to receive it 🙂 …
Subject Line: Here's Your Free E-book!
Welcome to my VIP Email Club!
I am SO excited and honored that you requested a digital copy of my new book "Seven Figure Headline Writing Secrets Revealed".
I can't wait for you to read it and to let me know what you think.
Writing this has been a real labor of love and I am thrilled with the reaction I am getting from readers so far.
Oh, by the way, here's the link to download so you can start reading right away: XXXXXXXXXXXXX
Also, I wanted to let you know what you can expect in the coming days.
I've got lots of content I'm going to be sharing with you filled with copywriting, marketing and business building TIPS, TRICKS, and TECHNIQUES that are sure to put more money in your pocket FAST…
… if you implement what I'm sharing with you.
Also, I'll have resources and special offers JUST for my VIP Email List members…
… PLUS the occasional bonus free gift!
So, make sure you keep on the lookout for my emails. And PLEASE whitelist my email address – rsp@worldclasscopywriting.com – to guarantee you're not missing out on anything.
That's it for now!
Thanks again for requesting my new book and please let me know what you think after reading it.
To Your Future Success!
Robert Sean Pascoe
Freelance Direct Response Copywriter | Marketing Strategist
rsp@worldclasscopywriting.com
Step #5 – Create A Content Plan That Fuels Your Lead Generation System
All right, now the REAL work with your lead generation system begins.
Wait. What?
I can hear you thinking, "I thought that WAS the real work".
Well, before we could start promoting our lead magnet and influencing anyone to opt-in to our email list we had to build the necessary moving parts. I'm talking about the lead magnet itself, the squeeze page, the success page, and the welcome email.
But how do we gain the initial interest that gets prospects to our squeeze page?
There are two options:
Paid Traffic

Organic Traffic
Since this article is about a FREE lead generation system, we're only going to look at ways to get organic traffic to your squeeze page.
What you need to start driving the traffic you need to your squeeze page is a strategic content marketing plan.
I'm sure you've heard the saying, "Content is King". 
Some may disagree. But I think in 2020, especially when it comes to gaining attention online for your business…
Nothing Beats Creating and Distributing HIGH-QUALITY Original Content
Content that is relevant to your niche or business.  And content that establishes YOU as one of the "Go-To" experts in your field.
So, is content creation super complicated and difficult?
In my opinion, it doesn't have to be and shouldn't be.
If you are a true expert in your area of business (and you NEED to be) then it really shouldn't be hard for you to write articles and other content. 
But what if you aren't a good writer?  Well, you can talk, can't you?  There are all kinds of tools available now (even right in Microsoft word) where you can use "Talk to Text" to write articles.
Also, you don't have to just write.  Video is the most popular form of content online today.  You can make videos right with your smartphone or your laptop camera and upload them to your blog or any of the video sharing sites.
The bottom line is you MUST create VALUABLE content that is relevant to your target market if you want to get free traffic to your squeeze page.
Here's an example of what I currently am doing:
I try to write at least one blog post (700 to 2000 words) per week

I then promote that blog post on all of my social media sites including Facebook, Twitter, and Linked-in

After a few days (making sure my blog post was indexed first by Google on MY branded website) I copy and paste the entire blog post as an article on Medium.com 

Then I promote the Medium.com article on all of my social media sites

Finally, I copy and paste the same material as a Linked-In article and promote it as well on all of my social media sites
Every one of these blog posts/articles include a "Call to Action" at the end which tells a little about my Free Lead Magnet that drives them to my squeeze page. 
Also, my profile on Medium.com and all of my social media accounts include a short call to action and link to my squeeze page.
This simple and free system is continuing to bring in more and more leads every day.
Now, I plan on turning things up a few notches by adding video to my system.
I'm going to start creating videos for every blog post/article I write that give an overview of the content plus plugs my lead magnet in the video itself and in the description box below.
Here's An Easy Solution To Quickly Creating A Lead Generation System
I hope you found this article both interesting and informative.  Even more, I hope it will immediately help bring more revenue into your business.
Now, if you are overwhelmed at all, remember there's no reason why you need to do any of this yourself.
As a Freelance Copywriter, I could create a complete lead generation system for you including:
Building and Writing a Lead Magnet

Creating a Squeeze Page

Perfecting the Copy for the Squeeze Page and Success Page

Writing the Welcome Email and any subsequent emails

Being your Blog/Article Ghost Writer (Writing all of your blog posts and articles in your name and style)
Just go ahead and send a quick email to RSP@worldclasscopywriting.com and tell me a little bit about your business.
I'll get back to you as soon as possible to set up free, no obligation call.
Also, if you'd like to see my full lead generation system in action, just go to https://howtowriteheadlines.com and opt-in.
ABOUT THE AUTHOR:
Robert Sean Pascoe is a Freelance Direct Response Copywriter and Marketing Consultant.
He specializes in Copywriting that Sells, including Direct Mail Sales Letters, Complete Direct Mail Packages, Online Sales Pages, Advertorials, Emails, and Complete Online Sales Funnels.
Robert also is an expert in writing SEO Optimized Web Content including Home Page Copy, Blog Posts, and Articles.
Please Check Out These Other Recent Articles On https://worldclasscopywriting.com
How To Write A Sizzling Sales Letter | A Step-by-Step System
The Beginner's Guide to Direct Response Copywriting