Direct mail is a fantastic marketing strategy for businesses that are looking to reach their customers with targeted messages.
It's also an effective way to market to new customers, promote new products, keep current customers happy and to drive sales.
For decades direct mail was THE go to solution for direct response marketers along with print advertising. But of course the dawn of the internet age changed just about everything, including switching most commerce to that of online sales.
But should this classic medium still have a place in your marketing arsenal? You bet!!!
Using direct mail in fact very well could give you a GIANT advantage over your competition who are only spending their marketing dollars online – where the competition is more ferocious than ever before.
And that's the big point I hope you take away from this article.
Why Direct Mail Marketing Is Making A HUGE Comeback
We are constantly bombarded with advertising especially online which is leading many to become "numb" to its effects.
Even email which was once an almost sure bet for marketing ROI is struggling due to oversaturation.
In fact, research has shown that in most cases only about 20% of people open an email, which means the other 80% are hitting the "move to trash" button or ignoring it completely.
Direct mail gives you a much better opportunity to laser target your ideal audience and market to them directly in a way they are most likely not to ignore.
It's also a great way to reach people when they're not doing anything else – like during work, while shopping or when they're on the move. By contrast, direct mail can be sent out during any of those times, and it will be received by people when they are READY to pay attention to it.
While it's true that just about everyone is online (yes, even your great aunt Tessie) everyone still can receive old fashioned snail mail. And the competition for their attention in the mail box is significantly less now than it was when direct mail was "king".
That's exactly why smart direct marketers and entrepreneurs everywhere are re-discovering the POWER of using this old school method in their business.
In fact, many are enjoying a WINDFALL in skyrocketing profits and there's no reason why you can't as well!!!
The New Direct Mail Revolution
Direct mail marketing has a long history of success going back hundreds of years.
Even though most of the world has gone completely "digital" direct mail works just as well (maybe even better) as it ever did. Why? Because it reaches your customers directly. This can give you a HUGE advantage over your competitors in successfully converting your prospects into paying customers.
Direct mail is also a more personal way of communicating with your customers.
Customers who are sent direct mail tend to become more loyal to you because of the personal touch involved. As a business, customers want to know that you care about them and that you have a personal touch.
Recently in my freelance copywriting business I have noticed a big surge in the amount of my clients who are either adding direct mail to their marketing strategy or are once again returning to the old workhorse.
From everything I have seen firsthand with the results my clients are getting from this tried and true method, its something I would HIGHLY consider using.
But don't just take my word for it. I found some FANTASTIC tips from three other great marketing sources I want to share with you now 🙂
First here's what Frank Hamilton from Inkit.com said are…
7 Reasons To Start Using Direct Mail
1. Target the Most Likely Customers
When using direct mail tools, it enables you to target only high-intent customers.
You'll need to take out the time to identify customers who need your product or service. For example, using your customer address database, you can draw up a customer list.
There are also platforms such as Inkit that can segment your audience using demographics or customer data.
2. Communicate with Existing Customers
In business, customer retention is crucial.
It opens up room for repeat customers, referrals, customer loyalty, and long-term relationships.
Thus it is always essential to keep communication lines open with your existing customers.
Companies that use direct marketing use it to stay in touch with customers. Even when you do not have a product to sell, you can reach out to customers.
3. Personalize Your Campaigns
A well-personalized marketing campaign can be highly effective and powerful. Customers are likely to be more receptive to your mail when it has a personalized touch.
Once your audience has been segmented, you know what kind of messages can appeal to them.
4. Build Your Unique Brand Image
If you want to build awareness for your brand, direct marketing is an effective way to achieve it.
Consistency is vital when building your brand. Thus, your direct mail campaigns should be consistent with your branding efforts. Build your brand image how you envision it and tweak it as you go till you meet your goal.
5. Measure Performance Accurately
Compared to digital marketing, it is much easier to measure campaign results for direct mail marketing.
There's no need to make use of sophisticated analytics tools to count your leads or sales.  And no guesswork when it comes to who has received your message or not.
With direct mail, you can quickly check the level responsiveness of your mail recipients.
6. Save Your Budget for Other Needs
Saving money from your budget is another benefit of direct mail. Rather than market to everyone, you can send newsletters or offers to only your target clients, and get a much higher ROI.
What's even more exciting is that you can test your direct mail campaigns to see what works before distributing it on a broader level.
7. Make It Fast and Easy
Direct mail campaigns are easy and quick to execute. Companies that use direct marketing don't need to invest a lot of time or resources. It is easy for both your business and customers in the long run.
You can quickly send out bulk mails and track performance easily. Whether it's by the number of redeemed coupons or calls received.
Read the full article RIGHT HERE
Another industry leader, Neal Patel recently wrote on his excellent blog about using Direct Mail in your business.
Here are some highlights: (Click here to read the full article)
13 Reasons Direct Mail Works
1. Direct Mail has a High ROI
Would it surprise you if I said that direct mail gives you more bang for your buck than paid search and online display ads?
Well, it does.
Direct mail has a median ROI of 29%, putting the ROI in third behind email and social media marketing in terms of ROI. Social media is ahead by only 1 percentage point.
2. Works Great with a Digital Marketing Strategy 
Every great marketing strategy uses multiple channels.
Smart marketers wouldn't run only Facebook Ads and call it a day.
They'd consider running Instagram ads, do paid search campaigns, and even use search engine optimization to increase traffic.
While you shouldn't invest only in direct mail, you should consider it part of your marketing bag of tricks.
3. Easier to Target Than You Might Think 
On social media, targeting your audience is dead simple. Facebook, Instagram, and Twitter all offer tons of targeting tools based on interests, demographics, even behavior.
But what about sending the right message to your customers using direct mail?
Can you target your ideal client well enough to make it worth your time and money?
Yes, you can. At USPS.com, you can use their Every Door Direct Mail tool to send mail to different customers in different areas.
As long as you already know who your target audience is, direct mail can be highly specific.
4. Direct Mail is Trackable 
Technically, there is no automatic way to track direct mail response rates, ROI, and general engagement. Unlike a Facebook ad, you can't track that the user went from your ad to your product page.
Maybe a customer visits your website after seeing your direct-mail piece. While this person would count as a lead from your website, they should be a lead from your direct-mail campaign.
But wait, I just said direct mail is trackable. 
It's a little more complex, but tracking direct mail is totally doable.
5. It's Less Common 
Since everyone is familiar with digital marketing, it's easier to start getting results than a direct-mail campaign. So fewer people do it.
In 2016, there was a 2% decrease in direct mail delivered from the previous year.
Why is that a good thing for your direct-mail campaign?
When fewer marketers are sending mail, your piece has a higher chance of standing out.
Think about how much harder it is today to rank in Google. If I type in "how to send awesome direct mail," Google only shows me 10 results out of 6,470,000 possible answers.
In other words, the internet is full of marketing messages.
But mailboxes aren't.
And that's why direct mail still works so well in this digital age. Since it takes a bit more work than other digital marketing strategies, it's less common and more effective.
6. Direct Mail Gives a Feeling of Romanticism
Like hot baths and candlelit dinners, direct mail has become romanticized in our culture.
Think about it. When you receive a handwritten letter from someone, what do you do?
You get excited. Someone cares enough to write you a letter. It's not very often that you receive something like this.
What do you do next?
I'll bet you sit down and read every word of that letter. But it's not just you who loves getting letters.
7. It's Tangible
Email is easy to forget about because it's just a number on a screen.
As a general rule of thumb, about two percent of online advertisements garner our attention each day. In other words, only about 100 out of every 5,000 ad exposures have any meaningful impact on consumers.
But direct mail is unavoidable.
About 66% of people have purchased a product because of direct mail.
If your direct mail piece has a special offer, most people will save it for future use, and then they won't be able to forget about it.
8. Direct Mail Gets Undivided Attention
A certain fear accompanies direct mail.
When you open the mailbox and pull out a small stack of letters, you won't throw away any of the mail without glancing at it first.
You don't immediately know which piece of mail requires your attention and which one you're uninterested in. There is a fear that you might miss out on something important.
Because of that, you don't want to throw mail away without taking a peek at it first.
Direct mail naturally gets more attention because there are fewer distractions when people see it.
9. Increases Brand Awareness
As I've shown you, direct mail is tangible, meaning it has the potential to stick around for a long time in someone's house.
For this reason, consistent mailing increases awareness of your brand.
10. Direct Mail is for All Age Groups
I consider this one of the most compelling reasons that direct mail still isn't dead.
If you send an email, use Facebook Ads, or do any online marketing, your chance of reaching an older demographic isn't very high.
In fact, 33% of seniors don't even access the internet.
Conversely, direct mail reaches everyone, the young, and the old alike.
Everyone checks the mail, and because of that, your postcards and coupons can turn just about anyone into a customer.
11. It's Creative
When it comes to direct mail and creativity, the sky's the limit.
Because direct mail is a physical product, sending stuff that stands out is just a matter of having fun with it.
12. Direct Mail is Multi-Sensory
With digital marketing, it's impossible to hit all of the senses and difficult to hit more than two.
The five senses are touch, hearing, sight, taste, and smell.
At most, a digital campaign can only focus on sight and hearing. By making a digital ad interactive, some smart marketers can appeal to someone's sense of touch. But even that experience is not the same.
By making a digital ad interactive, some smart marketers can appeal to someone's sense of touch. But even that experience is not the same.
Everyone experiences the world through their senses. Direct mail can take advantage of all 5 of them.
13. It's Memorable
Advertisements now flash before our eyes at blazing speeds. Each time we search, stream, watch, read, scroll, click, or swipe, we are bombarded by advertisements.
But direct mail stands out.
Imagine putting together a radio delivered to your mailbox.
Maybe you receive a box near your door that reads, "Breaking into your house is easy."
Or you get a funny mailer from KitKat that says your candy bar was too "chunky" to arrive at your home.
Lastly, here are some great tips from Click Content Studios (read the full article by CLICKING HERE NOW)
10 Reasons To Add Direct Mail To Your Marketing Arsenal
#1. Direct mail advertising is ideal for existing customers
As channel marketing experts DMN point out, "Direct mail response rate among existing customers is 3.4 percent — more than 28 times the 0.12 percent for email."
#2. People like getting snail mail
When was the last time you received a letter or card in the "real" mail from a friend or a loved one? How excited were you about it? These personal touches are becoming far more appreciated than they were when digital started taking over our collective consciousness.
#3. Direct mail marketing is trusted
Similar to how we explained the value of print advertising in our blog post, "The 10 best reasons print advertising can boost your company's success," consumers tend to trust printed direct mail pieces more than  digital ads, like pop-ups and sponsored content.
#4. The call to action goes directly to your website or a unique landing page
People take a little more time when they look through their mail, so take advantage of their attention. While you still want to keep the messaging simple, give them a call to action – a real reason – to visit your website or landing page. A discount, coupon or referral incentive are a few examples.
#5. Direct mail can be incredibly creative
Lucid Press recently wrote an article showcasing some of the best direct mail pieces of 2018.
From chopstick pencils to unique folding technique, direct mail is interactive in a creative and tangible way. While not everyone can afford to send such unique mailers, it never hurts to ask a trusted marketing partner (like us) for guidance, suggestions and price points on how to make your direct mail piece stand out from the crowd.
#6. Young people are opening and responding to snail mail
Whether they consider it a novelty to receive mail in the actual mailbox, or there's a genuine surge in direct mail response rates, younger audiences are tuning in. In fact, the Postal Regulatory Commission reported that response rates doubled between the years of 2014 to 2016 for Americans age 18 to 21.
#7 73% of households either read or scan advertising mail received.
According to the Postal Regulatory Commission, "In 2016, 52% of households read their advertising mail, while an additional 21% scanned their mail."
#8. You tap into a market of consumers who are soaked in digital messages
According to Forbes, "Digital marketing experts estimate that most Americans are exposed to around 4,000 to 10,000 ads each day." Direct mail allows you to grab your target audience's attention one piece at a time.
#9. Direct mail lasts longer
Just like magazines and other periodicals, direct mailers physically last a little longer than digital ads, thus allowing for repeat exposure to your brand and message, especially if you're offering a coupon, rebate, promoting a special date or sale period.
#10. Boost your customer conversions
Higher conversion rates are possible when you add direct mail to your overall marketing strategy. According to Compu-Mail, companies that integrate direct mail into their digital campaigns see a 28% higher conversion rate.
Conclusion
It's easy to see how direct mail could be an extremely effective tool to add in your marketing arsenal.
It allows you to connect with your customers on a more personal level, developing a relationship with them.
This connection gives your business an edge over your competition. Businesses that use this marketing strategy get to know their customer better and that's why they stay loyal.
This fact should give you even more incentive to try and market to your customers on a personal level, using direct mail.
Simply put, this allows you to effectively communicate with new potential customers at the right time and place.
So, what are you waiting for? The best time to start putting a direct mail marketing plan into place is RIGHT NOW and I would love to be the one to help you implement it and show you first hand the potential increased profits.
Go ahead and CLICK HERE to contact me now and schedule a no-obligation consultation where we can discuss in detail how my direct mail copywriting can give you an almost unfair advantage over even your toughest competition.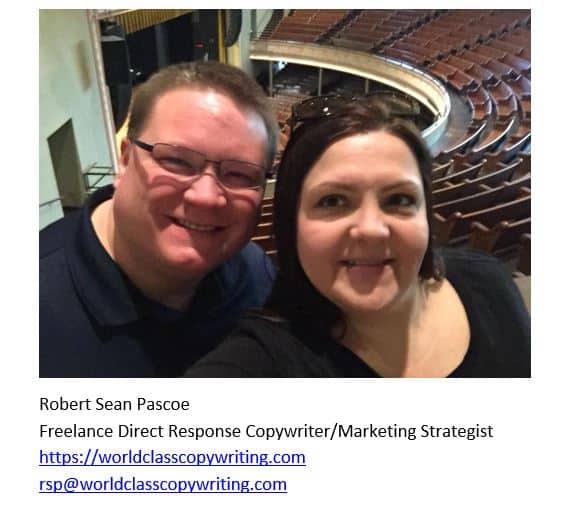 If you enjoyed this article then here are some more to check out:
How To Write A Sizzling Sales Letter | A Step-by-Step System
The Beginner's Guide to Direct Response Copywriting