Do You Have A Great Idea for A New Product or Service?
Or Maybe You Already Are In Business But Need Some Help Making It The Success You Need It To Be…
Either Way, This Message Is for You!!!
Dear Friend:
It doesn't matter how GREAT your idea for a new business venture and Marketing and Business Success Coaching is …
… or how SURE you are of having a special talent or highly developed skill which would be of valuable service to others if you don't know …
How to Successfully Market Your Idea or Service Without Going Broke
My name is Robert Sean Pascoe and I am a Freelance Direct Response Copywriter, Marketing Strategist and Business Success Coach who specializes in working with Entrepreneurs to successfully sell their products and services.
With almost a decade of direct response marketing experience, I could exclusively fight it out with other top copywriters over winning SIX and SEVEN figure projects from the top direct mail and online direct sale companies…
… but while money is necessary for survival, it's just as important for me to feel fulfilled in what I do.
And for me, that means helping small business owners and aspiring entrepreneurs go from …
 IDEA… to MARKET … to PROFITS …
… as fast as humanly possible and WITHOUT taking major financial risks.
It's the Best Time EVER to Launch Your New Business and Here's How to Fast Track Your Way to Success
As a lifelong entrepreneur myself, I know what it's like to have a killer idea but struggle with how to bring that idea to life. 
It's NEVER easy going at it alone. And unfortunately, that's one of the burdens most of us face when trying to make our own way in the world.
Often, we have to not only overcome our own personal doubts about whether we are making the right decisions, but we have to fight the objections and concerns of those closest to us. 
I'm talking about your family members, spouse or even close friends…
… who in the name of trying to look out for your best interest…
… will often do whatever they can to discourage you from taking any risks.
Even if YOU know there are very few great rewards in life that don't come with some sort of risk.
And YOU know, that …
Most Truly Successful Persons in History had to Overcome Both Great Risks and Periods of Soul Crushing Defeat to Eventually Reach Their Desired Destination in Life.
It's still VERY HARD to fight the negative gravity which seems to be all around you…
… trying with every force of nature imaginable to keep you EXACTLY where you are now.
But I have some good news for you.
You Don't Have to Fight for Success Alone!
I'm going to make this REALLY easy for you. 
If you are tired and frustrated, maybe even mentally burnt out from the stress of desperately wanting to break free from the restraints of the 9 to 5, paycheck to paycheck existence …
… AND you already at least have an idea for a new product or service …
… then I want you to take a VERY IMPORTANT first step towards finally creating the business and lifestyle of your dreams.
I'm currently taking on new coaching clients, as well as doing a limited amount of "Done 4 You" complete copywriting services.
Now, before you think something negative about whether you can afford to hire me, I am putting together various programs to fit ANY and ALL budgets.
Whatever your current situation is, I am confident I can help you get from where you are now, to where you want to be!
All you have to do right now is send me that email.  I'll respond back with what to do next and then we'll see exactly how we can start implementing a plan to get you on THE road to success.
Just send a quick email to rsp@worldclasscopywriting.com with COACHING in the subject line and I'll get back to you RIGHT AWAY!
Here's to your future success!!!
Robert
About Robert Sean Pascoe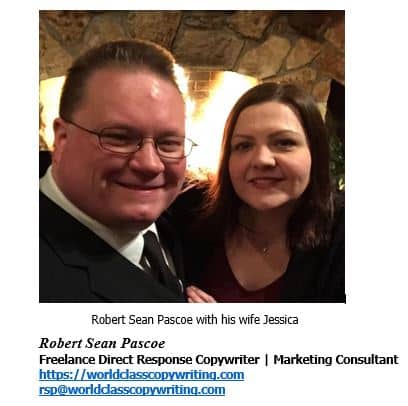 Robert is a freelance direct response copywriter, marketing strategist, and business success coach.
He works with entrepreneurs to build more profitable businesses and more importantly to ENJOY more fulfilling lives.
A former world champion professional wrestler, Robert has performed all over the world in front of tens of thousands of people over the course of 17 years in such countries as Japan, England, Austria, The Republic of Panama, The Dominican Republic, Puerto Rico and all over the United States.
Retired from the wrestling world for several years now, Robert lives a quiet but fulfilling life in Tampa, Florida with his beautiful and super-intelligent wife Jessica along with their two VERY spoiled kitties Hitch and Ace.
So, how did a former professional wrestler become an expert in copywriting and marketing?
Well, in addition to his life-long quest to be a pro wrestling superstar, Robert was always Entrepreneurial and had his hands in various business ventures from the age of 14 when he started an unofficial mail-order company from his bedroom.
It was then that Robert first discovered the power of copywriting and specifically direct response advertising. The small ads he placed in underground newsletters soon brought in orders from around the globe and placed quite a bit of spending money in his pocket.
Later in life, Robert was partners in several businesses where he always seemed to "fall into" being in charge of writing the advertising campaigns and eventually learned the basics of online marketing.
When his wrestling days came to an end due to injuries, Robert started seeking a new direction for his life and became obsesses with learning everything about direct response copywriting, marketing and success strategies.
For the past few years, Robert has spent the majority of his time writing sales copy and handling the marketing for companies in such diverse industries as Health Supplements, Cosmetics, and Real Estate.
Contact Robert today at rsp@worldclasscopywriting.com to take your business to the next level of success!!!