---
What Is Your Process of Working with Clients?
Over the years I've developed a laser-focused process for working with clients.
It all starts with an initial call to get to know each other a little better.  I can find out more about their business, target audience, and goals for the project they are interested in having me complete.
Then if things go well, I'll offer to send an official proposal which will include a price quote and terms for the project.
If the proposal is accepted then that's where the HARD WORK and FUN begins.
Now, that we are officially working together we'll have a "Kick-Off Call" where I'll interview you to get your full story of the product or service I'll be selling.
Then I'll go into full "Sales Detective" mode, doing in-depth research into you're the WANTS, NEEDS, DESIRES, or PROBLEMS your target market is most concerned with, as well as digging deep into the features and benefits of what you are selling.
This is the MOST CRITICAL part of the whole process as I need to figuratively "get into the heads" of your ideal customer or client so I can write copy that will push the right emotional hot buttons to persuade them to buy.
Throughout the whole process, I continually seek feedback on elements like the headlines, opening, story, and especially all aspects of the offer.
I will write and re-write until I am satisfied with a first draft and then submit for feedback which I encourage to be brutally honest. Why? So I can go back and tighten things up, so the copy is as SMOOTH and PERSUASIVE as possible.
Ultimately, all that matters is the RESULTS you receive from my copywriting, and I guarantee your satisfaction, or I'll keep re-writing until it's achieved.
How Do I Know If You're The Right Copywriter For Me?
While there are MANY great copywriters, I believe I'm your best choice because I have a PROVEN SYSTEM that laser targets the most important emotional triggers that make someone buy.
This is what gives me an edge over my competitors.
I also have both the years of experience and the results to prove that I am someone YOU can count on.
So, don't trust the health of your financial future to anyone who doesn't have the…
—- > KNOWLEDGE
—- > SKILLS
—- > and SELF-CONFIDENCE
… to take on any challenge you throw at them and do whatever it takes to get you the results you need!
Why Should I REALLY Choose You Over Other Freelance Copywriters?
When you are searching for a copywriter for your business, you have MANY options available.
Some business owners simply go to the various job boards and hire the cheapest freelancer to bid on their gig.
This is a GIANT mistake as you never want to settle for the budget option with something as important as writing the copy to sell your product or service.
On the other hand, there are some direct response copywriters who I feel go too far in OVER-CHARGING for their services.
Personally, I try to be as fair as possible when it comes to how I price my services and emphasize the overall VALUE a deliver from my clients.  In fact, if I do my job right and you have the right offer is presented to the right market, then it ultimately doesn't cost you anything to hire me.
So, the price really shouldn't ever be your main concern with hiring a direct response copywriter but rather the RESULTS they will bring you.  And that's what I specialize in – delivering tangible results you can enjoy as soon as possible.
I bring experience, dedication, and a commitment to excellence to all of my clients who hire me as their freelance copywriter.
Why Is It So Expensive To Hire You?
Copywriting is much more than just writing.
In fact, the majority of the time I spend on completing a client's project is on researching the company I am writing for. Their competitors. The product or service we are selling. And especially the target market we are writing to.
Now, there ARE cheap copywriters out there. But most of them are NOT true professionals. In fact, they are probably writing from a "fill-in-the-blanks" template they bought online.
And guess what?  That is NOT going to get you the results you need.
I know it's an old cliché, but it's 100% applicable here:
"You get what you pay for".
Now, with that said, I AM NOT one of the most expensive direct response copywriters out there. There are some well-known copywriting gurus who charge a minimum of 15k plus royalties for them to write for you.
And, if they can get that, then good for them!
Personally, I feel I charge reasonable rates for the work I do. And I want to be able to help as many fellow entrepreneurs as I can.
For the most accurate rate, I can give you please get in touch with me directly via text or email to schedule a time to speak over the phone or SKYPE.
Then we can determine together what will work best for your unique copywriting needs.
What Exactly Is Direct Response Copywriting?
Direct Response Copywriting is an extremely powerful specialty of advertising and marketing copywriting.
Specifically, it is the process of writing any form of communication that asks for an IMMEDIATE action from its reader, viewers, or listeners.
This is in contrast with traditional forms of copywriting which is often about a long-term strategy of building brand awareness.
Both forms of copywriting are important, however, most small business owners and entrepreneurs will get a far greater return on investment by primarily relying on direct response copywriting.
Why? It's because the effectiveness of the advertising message can be TESTED and PROVEN with small amounts of risk.  Then as you have a definite winner you can ramp everything up so the profits will flow like water from a faucet.
Ultimately, direct response copywriting is about getting SALES and making a PROFIT as fast as possible, rather than waiting and possibly going broke for someone to be "attracted to" your brand and eventually deciding to buy.
What does a Direct Response Copywriter do?
A direct response copywriter is someone who writes copy with the specific purpose of persuading someone to take immediate action.  This could be to request more information about a product or service, opt-in to an email list, or make an immediate sale.
As someone who is a direct response copywriter for hire, I consider my job to be much more than just writing sales copy, but to help my clients create an overall marketing message that will take their business to a higher level of success.
Being a direct response copywriter is more about being a thorough researcher, an expert in human psychology, and a master salesperson rather than a writer. In fact, most of the time I spend on any project is 70% research and preparation, 10% writing, and 20% re-writing.
Truly, a GREAT direct response copywriter is like a sales detective who uncovers the deepest WANTS, NEEDS, DESIRES, and PROBLEMS your target market cares most about…
…  and then shows them exactly how your product or service will fulfill all of the above FASTER and EASIER than any other alternative.
This is the job of a direct response copywriter.
How do you become a Direct Response Copywriter?
I'm sure everyone has a different story about how they became a direct response copywriter and how they would advise others to enter the field.
Personally, I never planned to be a direct response copywriter. Rather, it was something I evolved into over the years.
It all started when I was a young child sitting in the small sports collectible store owned by my dad. I watched intently as he spoke with his customers and helped them find something they maybe didn't even know they really wanted.
My dad was GREAT at sales.
Later, he spent many years selling collectibles by mail order which is where I first learned the power of advertising.
Soon, I was running my own mail-order business from my bedroom.  Without even knowing it, I was learning the skills of a direct response copywriter first hand as well as experiencing how profitable it could be.
As the years went by I had many jobs including many commission-only sales positions where I had no choice but to learn how to sell or be sleeping in the streets.
It was while working as a real estate agent that I became determined to learn everything about influence and persuasion.
That's when I began reading every book on salesmanship, copywriting, advertising, and marketing I could get my hands on in my quest to be a million-dollar-producing realtor.
Soon after taking some online courses on direct response copywriting I started writing my own direct mail sales letters, online sales pages, and email campaigns I achieved that lofty goal.
It wasn't long after my brokerage asked me to start writing sales letters and other marketing materials for both the office and for other agents on our team.
However, my freelance career was still far away.
I spent years studying under the masters of copywriting, copying masterfully written sales copy by hand, and obsessing over the craft before I eventually said goodbye to real estate and become a freelance direct response copywriter.
The bottom line is if you want to become a direct response copywriter – at least a GOOD one – it takes lots of work, studying, and determination.
There are NO shortcuts despite what you might read in some slick sales pitch (probably written by a master of the craft which is why it will seem so persuasive).
About Freelance Copywriter Robert Sean Pascoe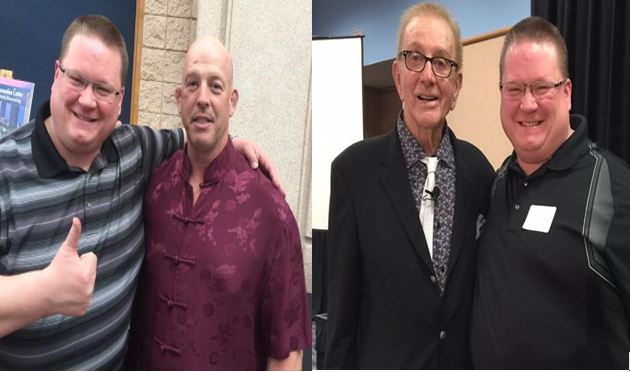 Robert Sean Pascoe is a direct response copywriter and marketing strategist who works with entrepreneurs worldwide to create advertising and marketing campaigns that maximize their profits.
With 16 years of copywriting experience and a lifetime in sales, Robert knows how to use the power of words to sell virtually anything to anyone, especially if the market has been properly defined.
Robert enjoys primarily working with small business owners to sell more of their products and services through the power of direct response advertising and marketing.
He has written sales copy for companies in such diverse niches as Weight Loss Supplements, Skin Care, Male Enhancement, Local Marketing Agencies, Live Event Seminars, Software Developers, Insurance Agencies, Real Estate Brokerages, Marketing Consultants, and many, many more.